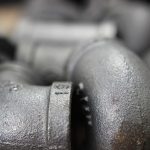 Het verleggen van een leiding is vaak noodzakelijk, als u bezig bent met de verbouwing van uw woning of als u een nieuw deel bij de woning aan gaat bouwen. Denk bijvoorbeeld aan de situatie dat u een nieuwe badkamer gaat inrichten, u zult voor het gebruik van de douche, het bad of een toilet een nieuwe waterleiding nodig hebben. U kunt er in dit geval voor kiezen om leidingen zelf te verleggen, als u hier enige kennis van heeft en over de juiste gereedschappen beschikt. Wanneer u liever niet begint aan het leggen van leidingen, biedt een loodgieter bij u in de buurt de uitkomst. Een loodgieter heeft vaak veel ervaring met het verleggen van leidingen, waardoor deze u op een vakkundige en snelle manier kan helpen.
Stappen om leidingen te verleggen
Bij het verleggen van leidingen dient u een aantal stappen te doorlopen, waarvan het inkopen van de juiste materialen de eerste is. Zo heeft u naast nieuwe leidingen, ook koppelstukken en een muurplaat voor de thermostaatkraan nodig. Als gereedschap heeft u voldoende aan inbussleutels, een ontbramer en een klein schaartje.
Allereerst dient u de druk van de leidingen in uw woning te halen, om lekkage te voorkomen. Vervolgens knipt u de leidingen op de juiste lengte en ontbraamt u de uiteinden van een leiding, zodat deze goed op elkaar aansluiten straks. Neem nu de koppelstukken en sluit de losse stukken leidingen op elkaar aan. Tot slot kunt u het geheel aansluiten op de koperen leidingen die u al had.